This is the guide for the MS Office Plugin to send files into the TimeMaker (manual installation)
This installation is divided to two parts. First is download/installation/registration of required files. Second is installation and integration in OFFICE and TimeMaker interface. Both parts must be sucesfully done to completely install the MS Office Plugin.
Minimal version of the TimeMaker to run this plugin must be  1.6.96 and newer!
Part one –  download/installation/registration of required files.
1) Download required files from here: www.timemaker.org/files/tools/dlls.zip 
2) In the downloaded dlls.zip you can find two folders.
Folder 32 and 64.


3) Now determine if you have 32/64bit version of the MS Office!
How to do it:
– Start a Microsoft Office program (Word, Excel).
– Click the File tab in the ribbon.
– Then click Account
– On the right, you should see an About button. In this example, we see About Word
The follow screen will present you with what Office version you are running.

4) When you know your version of MS Office (32bit or 64bit) – extract folder  64 or 32 inside the downloaded .zip to the:



(!The path may vary depending on your TimeMaker installation path! – always put extracted folders into /dlls folder in your TimeMaker installation directory )
5) !OPTIONAL STEP FOR CUSTOM TM installation FOLDER! if you have TimeMaker in default installation path you can skip to part 6)
– In this case its needed to edit "reg.bat and 32.reg or 64.reg" file in the /32 or /64 folder. (depending your office version)
– Right click the "32.reg or 64.reg" file end select edit
– Edit the rows in the registry key according to your TimeMaker installation folder:
For example from: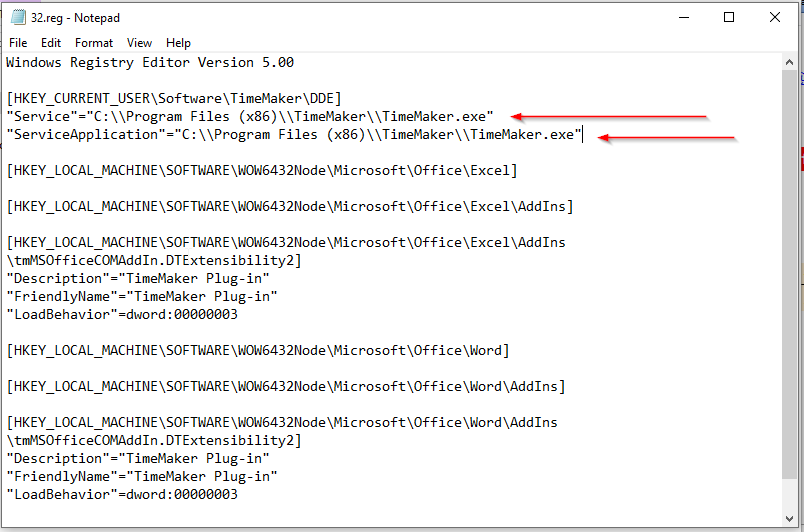 – Save and close.
– Right click the reg.bat file and select edit.
– Edit the first line of your reg.bat file to your custom TimeMaker installation path, for example:


– save the reg.bat
6) Run the reg.bat in the /32 or in the /64 as the administrator!
(right click  reg.bat and select run as administrator) 
– confirm popping windows.
– the windows will inform you that registration of the .dll was successful and confirm adding of registry entry.
7) Done, now you can follow part two.
Part two – integration in MS Office interface. 
1) Open the MS Office aplication (Word/Excel) and navigate to:
File –> Options –> Add-ins
The TimeMaker Plug-in should be visible in the list of Inactive Application Add-ins
2) Select from dropdown menu "COM Add-Ins"  as at the screenshot and click Go..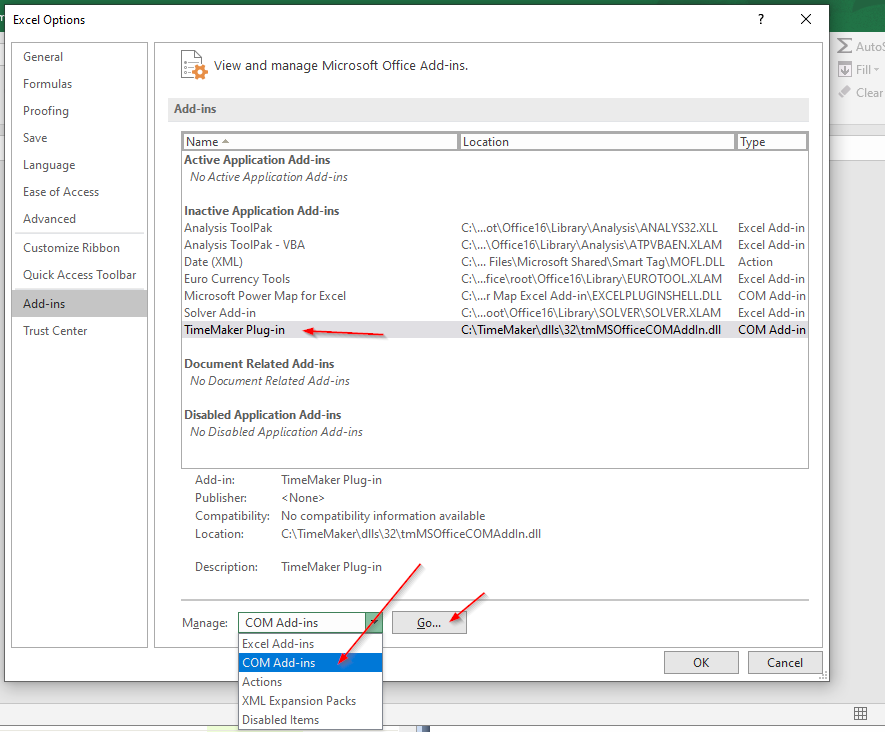 3) Check the box with TimeMaker Plug-in as at the screenshot and click OK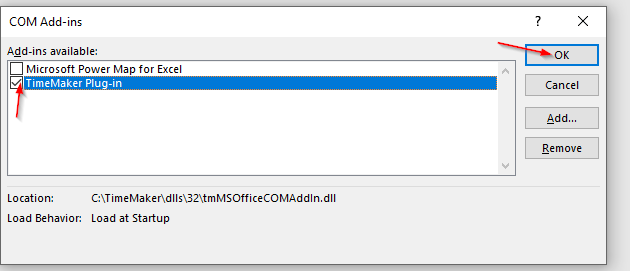 4) Now when plug-in is activated you can use the function to send files into the TimeMaker Message or to the TimeMaker production task.
When you want to send the file into the TimeMaker go to the  tab Add-Ins (as at the screenshot)

and select desired action: